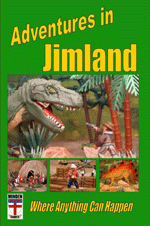 Adventures in Jimland is Jim Wright's fabulous game of adventure and exploration which one plays with imagination and little lead miniatures.
Now published by Minden Games, "Adventures in Jimland may be played solitaire, or by several gamers at once. All rules and necessary charts and information necessary for play is included: a 36-page digest-sized rulebook, a set of seven Reference Cards, and a sheet of uncut color counters. All you need to supply are some dice, paper and pencils, a tabletop, and an imagination."
See the Minden Games web page for ordering information: Adventures in Jimland is $17 postpaid ($21 outside N. America).
The NAGS Society is proud to host the original Reports From Jimland: hundreds of pages of tales of battles and exciting daring-do in wildest Jimland. The NAGS Society even makes an appearance at one point. The stories are entertaining and brimming with adventure ideas.
Reports from Jimland
Reports Volume 1
Reports Volume 2
Reports Volume 3
Reports Volume 4
Reports Volume 5
Reports Volume 6